Telehealth – Can't see the wood for the trees?
Let's begin with what is it?
The Health Resources Services Administration defines telehealth as "the use of electronic information and telecommunications technologies to support long-distance clinical health care, patient and professional health-related education, public health and health administration."
Under the large telehealth umbrella (which can include non-clinical services) "telemedicine" refers specifically to remote clinical services or "the use of medical information exchanged from one site to another via electronic communications to improve a patient's clinical health status" (American TeleMedicine Association).
Despite the broader definitions, both terms are commonly used simply to refer to two-way conferencing for clinical consultations.
It's worth noting that telemedicine is not a distinct medical specialty that we should leave to the experts; it's the application of technology to improve the clinical services that we all provide every day in our various specialties.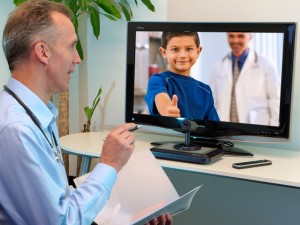 So, how might you use it?
Equipped with the right device (which can be as simple as just a connected smartphone) a consultation can take place anytime anywhere, if you want it to! Telemedicine technology also allows sharing information with colleagues for second opinions and making or taking specialist referrals (live discussions, dual consultations, diagnostic images, videos…). Telemedicine helps with care and communication. It can speed up wait times and magically remove the miles that separate us from our colleagues and patients.
It also keeps us in touch with our patients' status. Few physicians could say, hand on heart, that they wouldn't provide better care if they knew (really knew) how their sickest patients were doing between clinic visits. Devices to remotely collect and send data from patients at home to the medical practice (or a dedicated monitoring facility) can revolutionise care. This applies to vital signs such as blood glucose or EKG tracings, but also patient reported outcomes such as pain or mood monitoring. And it's a two-way street. We can remind patients to take medications, complete rating scales, check in with the nurse or have a blood test, automatically at pre-determined times. Like a cuckoo clock in the corner of the room that sings more than one song!
In addition, telemedicine technology can be "smart", using clinical rules and algorithms to map best practice guidelines against an individual patient's evolving clinical profile. When remote monitoring devices pick up a change in clinical status alerts are triggered. Early intervention and concordance with best practice care improves clinical outcomes and reduces costs.
Telemedicine also saves time by collecting the clinical information the clinician needs before the consultation begins. Rating scales and questionnaires can be automatically sent to and completed by patients before a normal clinic appointment. The information is collected, analysed, interpreted and delivered to the doctor before/at the start of the visit, allowing him/her to spend the face-to-face time focusing on addressing areas of difficulty (rather than finding them). That makes for a more satisfying visit for the patient and the doctor.
Telehealth also includes access to health information at our fingertips. Consumer medical and health information, and on-line support and discussion groups empower patients. Physicians have access to specialized health information and education materials including the ability to earn CME credits.
Two-way video is the most employed telemedicine technology in use by healthcare organizations, followed by patient engagement tools through patient portals or applications.
Is there something there to help you and your patients?
Talk to your professional organization or the American Telemedicine Association to see what's going on in your specialty. If you are in behavioral healthcare or treat children with ADHD, come straight to mehealth!